Inexpensive Arkansas Wedding Venues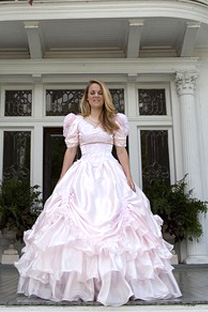 There many affordable wedding venues in Arkansas including's park facilities, historic banquet halls, and affordable wedding venues. For example, you can rent Chateau Aux Arc Vineyards and Wineries from only $750. 
We list this and other great wedding venues in Arkansas.
Prices of Arkansas Wedding Venues
Hidden Chapel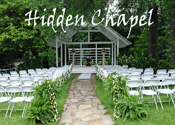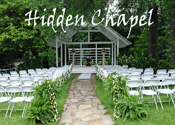 Hidden Chapel -- Wedding Venue in Arkansas
At this wedding chapel in Alexandar, AR the fee for the ceremony and reception rental is $2,495 for up to 100 guests. You have to use outside catering. The venue also offers packages that include a D.J.,professional photography, and other wedding services.
14030 Mann Ln.
Alexander, AR 72002
501-847-2635

Chateau Aux Arc Wineries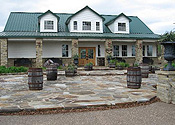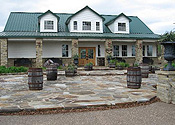 Chateau Aux Arc Wineries -- Affordable Wedding Site in Altus, Arkansas
You can rent the lovely facilities in Arkansas Wine country for $750 to $1,300.
8045 Champagne Drive-HWY 186
Altus, Arkansas 72821
479-468-4400
800-558-WINE (9463)
Compton Gardens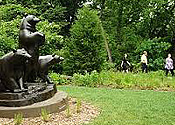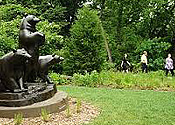 Compton Gardens -- indoor / outdoor reception site in Bentonville, AR
Rental fees run from $220 to $880 depending on whether you rent the conference room or the garden center and the day of your event.
312 N. Main St.
Bentonville, AR 72712
479-254-3870
russ@peelcompton.org
Trios Restaurant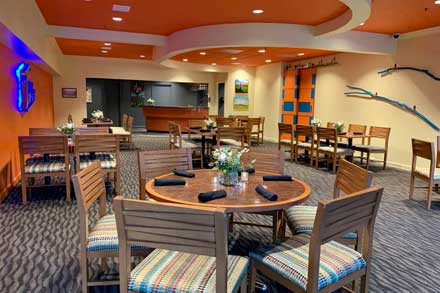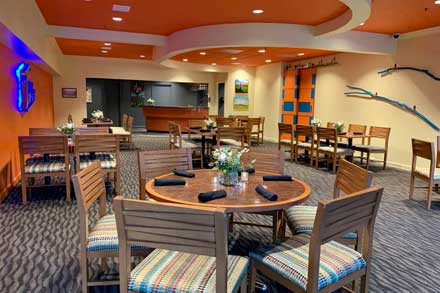 Trios Restaurant -- Affordable wedding packages in Arkansas   
You can rent this banquet hall for a small wedding in Arkansas for $50 to $100. Catering fees range from $24 to $35 - not including beverage, gratuity, tax.). Trios has a private dining room that can seat up to 80.
8201 Cantrell Road, Suite 100
Little Rock, AR 72227
501-221-3330
info@triosrestaurant.com
Eagles Landing Retreat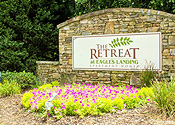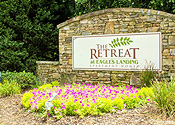 Eagles Landing Retreat small wedding venue in Arkansas
This wedding small venue in Casscoe, AR can hold up to 50 guests. Rental hours are 10 a.m. in the morning to 1:00 a.m. at night. Setup crews may arrive no earlier then 3 hours and are to leave no later then 2 hours after events. The fee is $350 for a six hour event and $650 for a twelve hour event. The fee is $50 for each additional hour.
P.O. Box 619
Casscoe AR 72026
888-569-2569
Contact@EaglesLandingRetreat.com
Blue Spring Heritage Center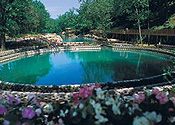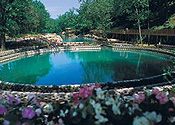 Blue Spring Heritage Center -- Inexpensive Eureka Springs Wedding Venue    
Rental rates for this banquet hall in Eureka Springs is $100 to $450 depending on the size of the banquet hall you choose and the number of guests. They offer your choice of a conference center, gardens and gazebo, pavilion on the water, and terrace.
1537 Co Rd 210,
Eureka Springs, AR 72632-9548
479-253-9244
info@bluespringheritage.com
Transportation Plaza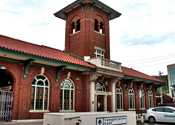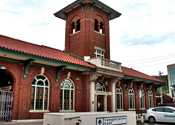 Transportation Plaza -- Affordable Hot Springs, AR Wedding Reception    
This wedding venue in Hot Springs is super affordable ranges from $50 to $200.
100 Broadway Terrace
Hot Springs, Arkansas 71901
501-321-2006
Colonial Court Celebrations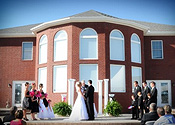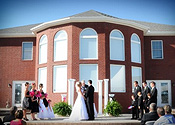 Colonial Court Celebrations --  Arkansas wedding venue
For this Arkansas wedding site, the fee is $2,499 for a wedding ceremony and reception on Friday or Reception prives range from $2,000 to $3,000 depending on the day of the week. You can bring in an outside caterer, but their in-house catering is very affordable from $10 pr $25 per person. They also offer low prices on several other wedding services.
14339 Pautsky Lane
Bentonville, Arkansas 72712
479-366-3167
Nixon Flower Farm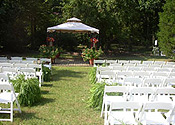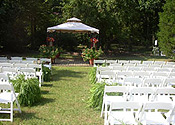 Nixon Flower Farm
This affordable wedding package in Jacksonville, Arkansas includes the house and gardens. Rental prices start at $1,275.
1412 Graham Road
Jacksonville, AR 72076
501-982-2379
info@nixonflowerfarm.com
The Peel Mansion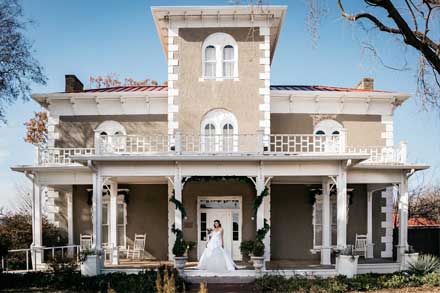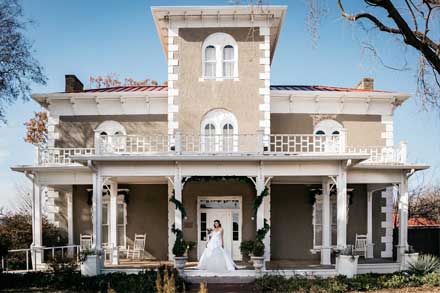 The Peel Mansion and Heritage Gardens -- Wedding Venue in Arkansas
Rental fees for this beautiful wedding venue in Arkansas range from $440 to $880.
400 S. Walton Blvd.
Bentonville, AR 72712
479-254-3871

DISCLAIMER: All advice and wedding venue or vendor listings on this website are for informational and entertainment purposes only. We do not endorse any of the listed wedding vendors. We can neither guarantee the soundness of the vendors nor the advice. Be sure to check out any wedding vendor thorougly before choosing one.