Cheap Backyard Wedding Ideas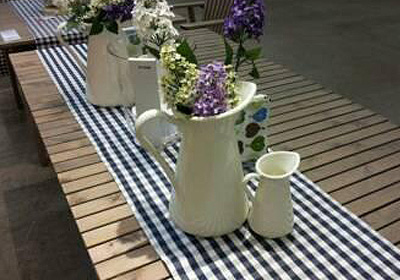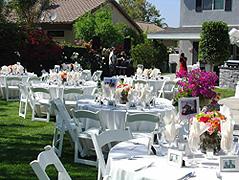 People assume that having a backyard wedding is automatically less expensive than having a wedding at a banquet hall. But, if you don't budget carefully, a backyard wedding can cost even more. Think about it. You need to transform you backyard into an outdoor wedding banquet hall with all the furniture and equipment that goes along with it.
In this article, we will discuss some great backyard wedding ideas that will save you moneyIf you are having a daytime wedding, a wedding tent is a must. Tents rent for anywhere from $250 to $4,000. They key to shop around for different quotes. There are a few DIY alternatives. You can tie each corner of a large piece of fabric to four trees. You can also get good prices for party tents on Ebay and then resell the tent when you're finished with it. Wal Mart has great prices on freestanding garden canopies.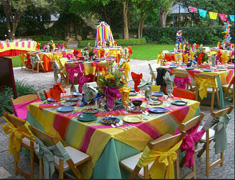 Tables cost $8 to $12 to rent. Chairs cost anywhere from $1 a piece for a plastic folding chair up to $25 for elegant banquet chairs. Shop around from different rental companies for the best prices. Also, do any friends or relatives have a folding card table they can lend you?
Casual Menu For a Backyard Wedding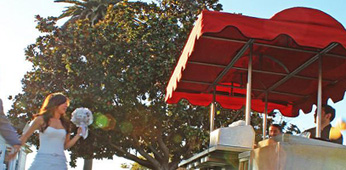 A  popular trend is to have gourmet-catering trucks at parties. That way, you don't pay extra for servers. One bride reports spending under $4,000 to have three different gourmet food trucks serve her 110 guests. Another idea is to serve small sandwiches, Italian meats and cheese or prepared party food from Costco. Hire teenagers to do the serving.If you have a patio, it can serve as a dance floor. But, if not, you will need to rent one. This model from http://www.cheersparty.com costs $732 to rent and is big enough for 60 people. If you are having an outdoor wedding at night, you need to have heat lamps in most climates. They go for $65 to $100 each. This is an area that you really should not skimp on. If you have a large party, don't just rent one or two and expect people to huddle around them.
Table Settings for an Outdoord Wedding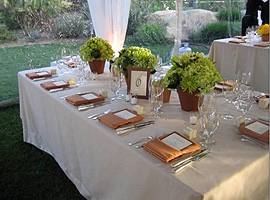 Renting place settings can cost up to $40 a person. An alternative is to buy high-end plastic plates and silverware. This is not the stuff you find in the grocery store. Reflections has a line of plastic plates that look just like bone china and plastic forks and knives that look just like silver. You can buy an 18-pack of these cornet plates from www.webstaurantstore.com for only $5.49. An alternative to borrow plates and silverware from an aunt, mother, or grandmother who has a ton of it packed in boxes in the garage or basement. Don't we all have a female relative one who fits that category? She is also probably a great source for serving trays. 
Should You Rent or Buy Table Linens?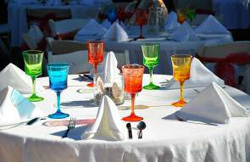 Surprisingly, tablecloths cost more to rent. They cost $12 to $20 each to rent and about $8 each to buy from tableclothfactors.com. And you can always resell them on Ebay.
Backyard Wedding Buffets
As following pictures demonstate, you can make your backyard wedding buffet elegant and inviting just by how you set the stage.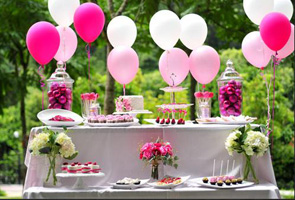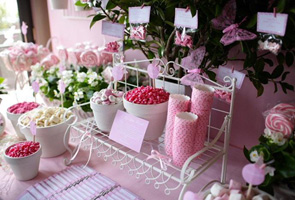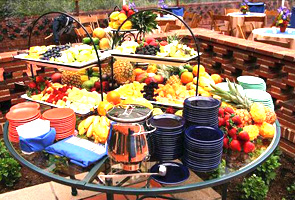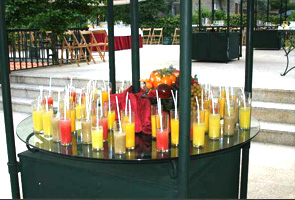 (more after advertisement below)
Party lights are a must for an evening outdoor wedding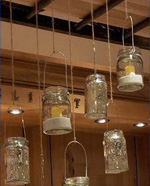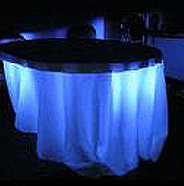 Photos credits on this page
Above All Catering-- a full service catering and event planning company in OC calif. Inexpensive Luau Decorations from Orientaltrading.com. At Your Service caters in O.C, Calif. specializing in beach weddings Better Homes and Garden online www.bhg.com. www.ceremoniesido.com.au event planners in Australia. www.partylights.com save-on-crafts.com