Cheap and DIY Wedding Catering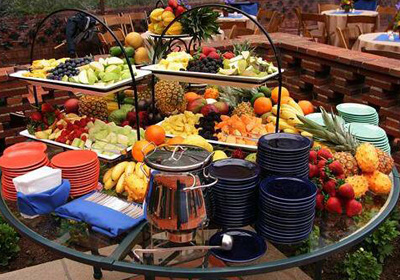 Catering tip #1: Do Some of it yourself
Hire a caterer to make only the main dishes and save money by making  your own salads, and buying your own bread.
#2 Do All of It Yourself (with some help)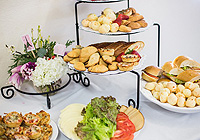 Hire an advanced student at a local culinary institute to be in charge of catering your reception. Have a group of close friends and family members who are willing to do food prep. Consider their help to be their wedding gift to you. Hire some high school or college students you know to serve as waiters.  Just don't be tempted to have a pot luck wedding reception. Tacky!
Don't forget the details like condiments and serving dishes. At Smart and Final, you can buy inexpensive  chafing dishes They stay warm from a flame under the dish. You can also rent better looking ones from a party store. It may be cheaper to buy plates from a thrift store or 99 cents store than it is to rent them.
The following book, available on Amazon, offers a complete guide to DIY catering: Cater Your Own Wedding, Revised by Michael Flowers and Donna Bankhead.
#3 Fast Food Catering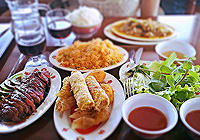 Here is a crazy idea: use Panda Express as your wedding caterer at $6 a person. For an international buffet, you could also get the pasta plates from Pizza Hut, burritos for El Pollo Loco, or even fried chicken and biscuits. You can even get those $5 large pizzas from Little Caesars and cut the slices into smaller triangles or square with toothpicks. Buy big bags of salad along with some huge bottles of salad dressing at Costco. Throw in some grape tomatoes and you have a salad! 
Hire two or three people to man the buffet table and kitchen. Rent heated metal serving dishes you see at buffets. Instruct the staff to never bring restaurant containers and bags into the reception hall. Instead, bring the trays back into the kitchen to be refilled.
#4 Forget the Catering and Let A Restaurant Handle It All
Wedding receptions and parties in a restaurant generally cost less because you don't pay to rent a hall or party equipment. Many restaurants close down for a wedding or other event so you will have the whole place to yourself. Asian restaurants are generally pretty affordable with great food and decor that matches an Asian theme wedding perfectly.  My own reception was at a restaurant and it was perfect.
#5 How Much Alchohol to Buy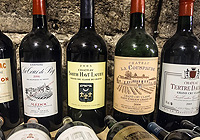 The following is enough for 100 wedding guests:
Two hundred 12-oz. bottles of beer
Twenty 750 ml bottles of wine
Six 750 ml bottles of spirits
#6 Negotiate with Your Caterer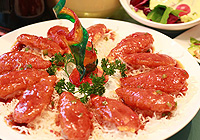 When your caterer gives you a quote that you can't afford, say "It's out of my price range." Often, the first price they give is what they hope you pay for catering your wedding,  not their lowest offer. 
Let's say that you can afford their first offer, but you think that it should include more menu items, some heat lamps, non-alcoholic drinks etc. Ask for it.
Do not be shy to keep asking for whatever you can get, but without saying anything negative about them or their catering services. 
#7 Get a Discount from a Hotel Reception Venue
Many hotel chains offer discounts on catered events if you book rooms in their hotel. Some also offer rewards points that help pay for your honeymoon! 
#8  Read the Fine Print in Your Catering Contract
Don't forget  the catering service charge. When you get a catering quote, look at the fine print. There is often an 18% or 20% service charge for the staff. If you have ever worked in a restaurant, you know how hard they work, so it is not an unreasonable fee. But, you have to figure that into your catering costs.  
#9  Use a Fake Rental Wedding Cake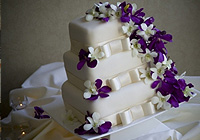 You can actually rent a very elaborate looking fake wedding cake like the ones you see in bakery windows. Your guests will think, you spend thousands of dollars on your cake. It comes with one real slice of cake for the bride and groom. You can buy a separate Costco cake for the the guests.
Servers can bring slices of  a Costco cake from the kitchen so nobody has to know! The cakes like this one cost $100 to rent from www.cakerental.com. 
#10 Cupcakes: A Popular Money Saving Trend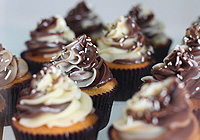 Cupcakes for weddings are now popular for weddings. Cupcakes cost about $2 a person, compared to $5 a person for wedding cake and they are a lot more fun. You even incorporate cupcakes at centerpieces by purchasing tiered cupcake stands. (www.mainecakesandcookies.com)
#11 Serve Some Candy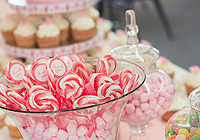 A Candy Buffet for Your Wedding an be a very fund and inexpensive element to your wedding. Stock up on candy after holidays, especially Valentines Day. Find interesting candy buffet containers around the house, at the 99 cents, or at thrift stores. You can also save big by ordering wholesale candy online. In addition, there are many people who design candy buffets for weddings and other events. The custom candy buffets below are by (Candy-So-Suave.com).