Inexpensive Wedding Venues in Chicago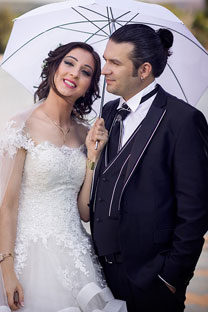 Club community rooms and even country clubs offer very good deals for wedding venues in an around Chicago.
Affordable Chicago Banquet Halls
For Chicago Suburbs please check this page.
RoSal's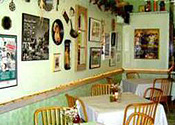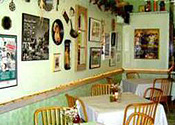 RoSal's Italian Restaurant Affordable Metro Chicago Wedding Reception Venue
This Chicago Wedding venue is for a small wedding or rehearsal dinner or outside catering. It features Italian cuisine with party menus from $24.95 per person. The private party room can host 55 guests.
1154 West Taylor
Chicago, IL 60607
312-243-2357
Pazzo's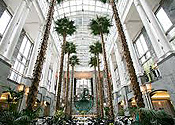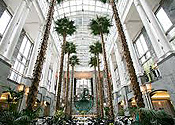 Pazzo's Cheap Downtown Chicago Venues -- Restaurant with Banquet Room
This Chicago wedding venue was featured on TLC's Four Weddings. It offers receptions with wedding menus from $75.
Hartford Plaza 100 S. Wacker Dr.
Chicago, IL 60606
312-372-2700
pazzos100@aol.com
Catalyst Ranch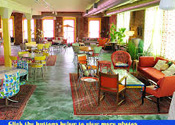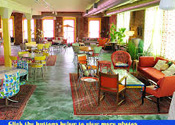 Catalyst Ranch wedding reception venues in Chicago area
Historic downtown Chicago Loft Building
This is a fun and casual Chicago venue has banquet rooms to rent starting at $1,900.
656 W. Randolph, Suite 3W
Chicago, IL 60661
312-207-1710 
Chicago Park District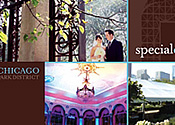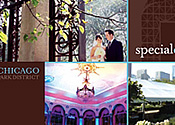 Chicago Park District Party Rooms for Rent in Chicago 
When you are looking for Community Rooms for Rent in Chicago, try The Park district. It offers a big variety of small wedding venues and large venues in Chicago. To give you an idea, here is the information for just the Columbus Park Refectory:
Location Monday-Thursday Friday-Sunday
Entire Site $2,375 to $2,900
South Terrace Outside Mall $340 to $410
Pavilion $558 to $682, Dining Hall $475 to $580, Dance Hall $550 to $675, Dining Terrace $475 to $575
541 N. Fairbanks
Chicago, IL 60611
312-742-PLAY (7529)
Chicago Garden Banquets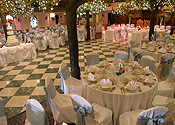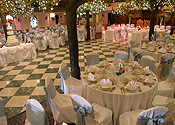 Chicago Garden Banquets  Banquet Hall in Chicago 
This Chicago wedding venue offers an affordable indoor garden weddings featuring a huge dance floor. It can accommodate 60 to 475 Guests. Saturday night wedding packages with food and liquor start at $33.95 per person(for larger parties in the off peak season). 
Garden Manor -- 4722 W. Armitage Ave, Chicago, 60639
Royal Gardens -- 2515 N. Harlem Ave, Chicago, 60707
Garden Terrace -- 6330 W. Irving Park Rd, Chicago, 60634
Garden Walk -- 3705 W. Fullerton Ave, Chicago, 60647
773-831-4845 
Irish American Hertitage Center
Irish American Heritage Center  
Party rooms in this Chicago wedding venue are available for daily and hourly rentals. You can arrange a catering tour.
4626 North Knox Avenue
Chicago IL 60630
773-282-7035 ext. 10
Roomrentals@irishamhc.com
Swedish American Museum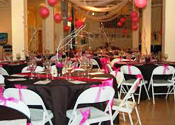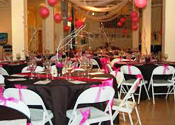 Swedish American Museum Community Room for Rent in Chicago   
This Chicago community room seats 150 people with room for dancing. It includes a piano.   
5211 N. Clark St.
Chicago, IL 60640
773-728-8111 
DANK HAUS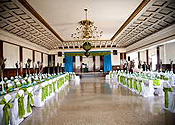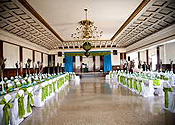 Dank Haus German Cultural Center 
DANK Chicago at the Historic DANK-HAUS.
If you are looking for a European-style wedding venue in Chicago, The Historic and affordable Dank-House wedding venue may be for you. You can bring in your own food or choose from preferred vendors.
Rental rates are as follows: Marunde Ballroon $4,250, Skyline Lounge $200 per hour, 4 hour minimum, Brandenburg Room $200 per hour, 4 hour minimum, Terrasse $600 flat    
4740 North Western Avenue
Chicago, IL 60625 
773-561-9181
Saint Xavier University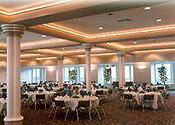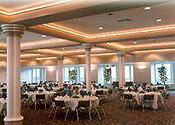 Community Room at Saint Xavier University 
Chicago Campus == This Chicago wedding venue might be perfect for a smaller wedding. 
3700 West 103rd St.
Chicago, IL 60655 
773-298-3000
Blackthorn Manor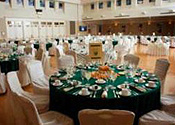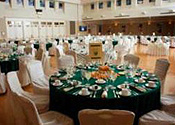 Blackthorn Manor on Devon and Canfield Big Banquet Hall In Chicago  
This Chicago venue features affordable onsite catering. It offers seating for up to 120 guests.   
7280 West Devon
Chicago, Il. 60631
773-774-4001
Mayfield  Banquet Facility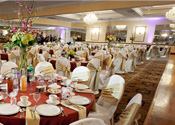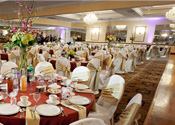 Mayfield Banquet Facility Inexpensive Chicago Banquet Facility  
Try unforgettable edibles catering in Chicago  from $12.99 a person. 
6072 S Archer Ave.
Chicago, IL 60638
773-284-2675
DISCLAIMER: All advice and wedding venue or vendor listings on this website are for informational and entertainment purposes only. We do not endorse any of the listed wedding vendors. We can neither guarantee the soundness of the vendors nor the advice. Be sure to check out any wedding vendor thorougly before choosing one.