Inexpensive El Paso Wedding Venues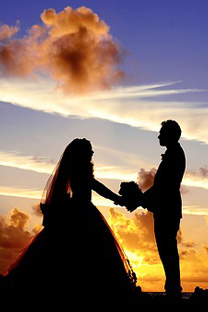 El Paso, TX has many inexpensive wedding venues.  Several of the options below offer a full package of services for one price.
Inexpensive El Paso Banquet Hall Prices
El Paso Desert Botanical Garden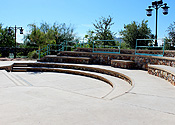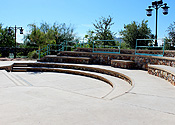 El Paso Desert Botanical Garden as an inexpensive wedding venue
Rental fees are as follows for a wedding ceremony and reception:
75 guests $2,000
76-120 guests $2,500
121-175 guests $2,750
176-250 guests $3,000
4200 Doniphan Road
El Paso, TX 79922
915-584-0563
El Paso Parks & Recreation Department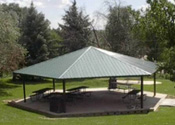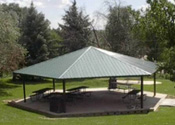 El Paso Parks & Recreation Department -- affordable outdoor wedding venues
There are several location which to choose from and you can find them on the page linked above. To get an example of pricing, consider that Park Pavilion rental is $30 an hour for residents and $37 for non-residents.
915-212-0092
Hollywood Hall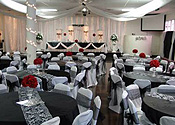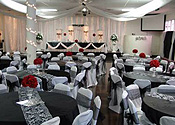 Hollywood Hall for an affordable wedding reception in El Paso, Texas
The Hollywood package is Saturday for $2,499 or Friday for $2,299. Catering service can be added to any package for a minimum of 100 guests for $600. Rental fees include the following: Additional plates can be added at $6.00 per plate Maximum 200 guests, DJ , Black table cloths only, Unlimited soft drinks, 1 Keg of beer, 1 Beverage Server Manager on site, Security, Liquor bottles permitted at No Charge, Clean up service during and after event.
1441 North Zaragosa Road, Suite 8 (Behind El Taco Tote)
El Paso, TX 79936
915-588-1462
Enchanted Ballroom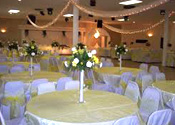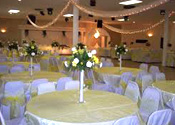 Enchanted Ballroom -- Perfect Setting for an El Paso wedding reception 
Package with Buffet: Catering service for 100 people buffet style Saturday Package Price $4,400. (You can add more servings for $5.00 per plate) Ballroom 7 Hours (6 PM to 1 am), Background Music at reception, DJ for 4 hours. 2 Security guards, 2 Beverage servers, Unlimited sodas, ice and cups Unlimited keg beer, 2 Bottles of Champagne, White or Ivory table covers and chair covers with Overlays and bows in a variety of colors, Head table, and tables for Gifts, Cake & Sign-In, A DVD with your pictures in a slide show. Big Screen projection TV available
10870 Pellicano Dr. Suite 9
El Paso, TX 79935
915-629-6991
915-843-6521
enchantedballroom@att.net

Isaron Hall
Isaron Hall -- Inexpensive Wedding Venue in El Paso   
$980 for a 5-Hour Rental and $380 for Each Additional Hour (includes, Punch, Soda. DJ ) Unlimited Soda, Unlimited Draft Beer, Unlimited Punch, Balloons for Dance Disco with Laser Light Show and Other Special Effects for 5 Hours, 8' x 8' Screen and TV Monitors, (2) Beverage Servers Behind Bar. (2) El Paso Police Officers for Security Service and (3) for Quinceañera (If Deemed Necessary). Linen Provided for All Tables. Ample Lighted Parking.
1071 Country Club Road
El Paso, TX 79932
915-845-3510 Email:
isaron_hall@hotmail.com
Selarom Events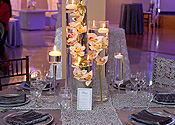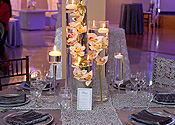 Selarom -- Inexpensive wedding venue in El Paso 
This affordable wedding Venue in El Paso is available for 6 hours up to 1:00 am: Sunday thru Thursday - $2,950, Friday - $3,250, Saturday - $3,950.. Seating up to 270 guests, Background music for reception. Professional DJ Unlimited soft drinks. Projector and screen for slide show table linens . In house event manager. Beverage attendant(s)., Peace Officer(s), Rehearsal time available.
6633 N Mesa, Suite #400
El Paso, TX 79912
915-588-5499
Avalon Hall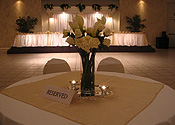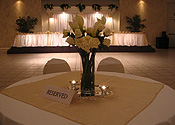 Avalon Hall -- Affordable Wedding Hall in El Paso
Rental fees for this affordable El Paso reception hall are as follows: Saturdays - $3,600, Fridays - $2,800, Sun to Thursday - $2,500 The Avalon Package includes the following. Illuminated Column Décor, Head and Cake Tables, Table Linens, Chair Covers with Bow Color of Choice, Unlimited Soda, Host and Beverage Servers, DJ Sound System, Background Music for Reception, Projector Available - Video/Slideshow Presentation, Security, Facility Use Up To 7 Hrs, No Clean-Up Fees
3945 Doniphan Park Circle Suite G
El Paso, TX 79922
915-915-203-9543
915-915-587-5531
Fire Fighters Hall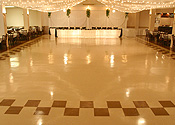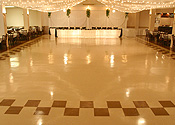 Fire Fighters Hall -- Private party room for rent in El Paso
Basic Packages for this inexpensive party room in El Paso are as follows:
Saturday $3,050 , Friday $2,800
Sunday- Thursday $2,600
DJ Service, 2 Sheriff Deputies, 2 Bar Servers, table linens, Unlimited sodas and beer, clean after the function, and a decoration package.
3112 Forney (Lee Trevino and Pebble Hills)
El Paso, Texas 79936
915-598-8065
866-598-8065
Salones la Mision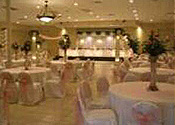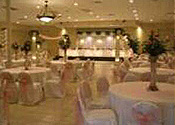 Salones la Mision is an inexpensive wedding venue near El Paso. 
It offers in-house catering service at an affordable price. Different menu selection may be requested and prices may vary. Catering Service Starting at: $8.25/guest
700 Anthony Road
Canutillo, Texas 79835
915 877-4774
SunShine Ballroom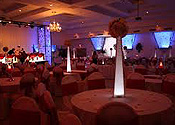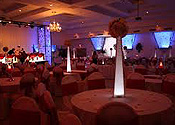 Sunshine Hall -- Offers a super affordable wedding venue option  
Saturday PM 445. Sunday $395. tables projector dance floor with lights sound system lounge with hd TV kitchen
12025 Rojas Dr
El Paso, TX 79936
915-227-0028
DISCLAIMER: All advice and wedding venue or vendor listings on this website are for informational and entertainment purposes only. We do not endorse any of the listed wedding vendors. We can neither guarantee the soundness of the vendors nor the advice. Be sure to check out any wedding vendor thorougly before choosing one.