Homemade Wedding Favors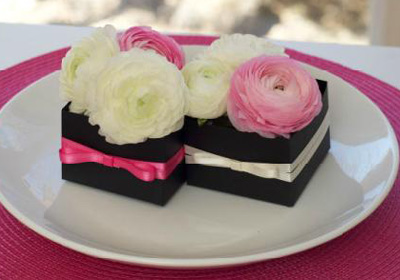 It can be really fun to make your own homemade wedding favors, especially if you can get some help from your bridesmaids and family members. You can even make craft party out if it!. You don't have to have any crafting skills to create many do it yourself wedding favors on this page.You can even create an edible favor with cookies or candy. Here are some ideas.
DIY Wedding Favor Champagne Glasses for Candy or Candles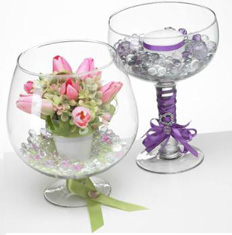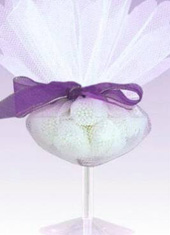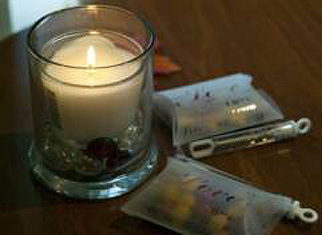 Buy plastic champagne glasses and fill them with M&Ms or truffles. You may also be able to find wine glasses at the local thrift store. Your parents and other relatives probably have tons of wine glasses sitting in the basement that they never used and would be happy to get rid of. To really make them nice, you get get a glass etching kit at the craft store to put your names and the wedding date.
If you want to go disposable. Oriental trading sells clear champagne glasses for $8.99 for 20. You can cover the glasses with colored plastic wrap, tulle, or lace and tie with a ribbon.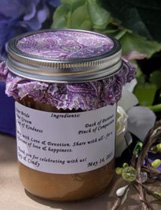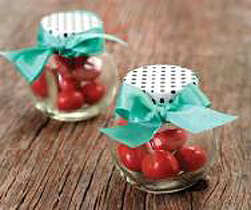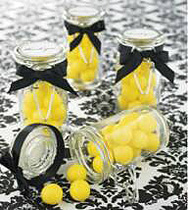 DIY Candle Wedding Favors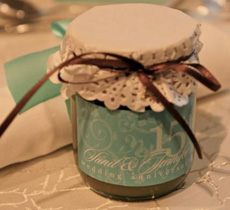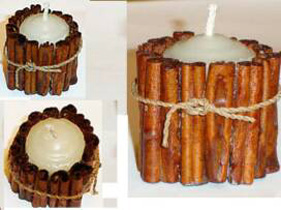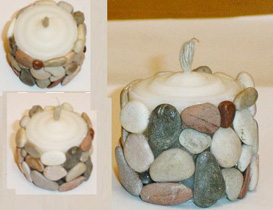 How Make Homemade Soap Wedding Favors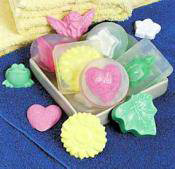 It actually takes very little skill to create decorative homemade soap with one of the kits you can buy at Michael's Craft store. Michael's gives the simple instructions.
Step 1: Cut white soap into small squares, place in glass measuring cup or bowl and melt in microwave or double boiler.
Step 2: Add soap coloring. Pour melted soap into a design mold, not bar soap mold. Let soap cool for 10-20 minutes. To speed drying time, you can put the mold in the refrigerator.
Step 3: Remove soap shape from mold and place face down into a bar soap mold.
Step 4: Follow step one to melt clear soap. Add fragrance if desired. Pour melted soap into bar soap mold offer soap shape. Let soap cool, then remove from mold.
Step 5: Follow steps 1-4 above to make additional soap shapes using white or clear soap. Add soap colors and fragrances as desired. If just a soap shape is desired, omit steps 3 and 4.
(more after advertisement below)
Homemade favor bags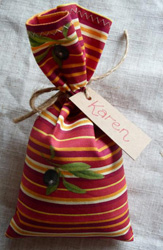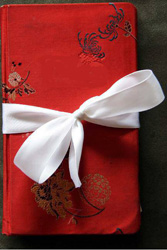 If you know how to sew, you can make drawstring favor bags with organza or other pretty fabric. You can fill them with candy or homemade soap. The ones in this picture are from pouchmart.com for $1.50 each. But, it would cost a lot less to make them yourself. You could probably get organza or a similar fabric on sale for $10 a yard or less and you would probably only need a yard or two.
Photo CD Wedding Favor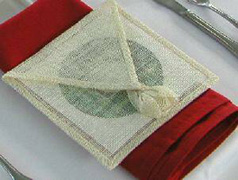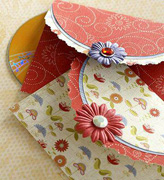 Making A CD Wedding Favor For your Guest CDs are getting kind of outdated as technology moves along, but they are still great for storing photos to hand out to guests. Put, pictures, videos, etc. and make copies for all of the wedding guests.
Homemade Recipe Books As Wedding Favors
Ask friends and relatives to e-mail their favorite recipe along with la little story about why the recipe is special. When you gather this information, you can make personalized recipe books make special wedding favors that that your guests will cherish. Ehow.com has instructions for this recipe book.