Find an Inexpensive Wedding Dress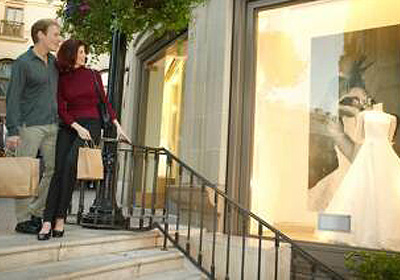 Top Money-Saving Wedding Dress Tips!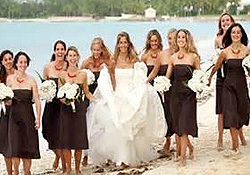 Rent a wedding dress. This saves not only on the cost of buying a dress, but also on dry cleaning and storage.
Buy an inexpensive wedding dress from a designer consignment store.
Search online for a "white evening gown" instead of a wedding dress. There are many elegant dresses that would look perfect for a wedding dress.
Borrow a wedding dress from a married friend or relative
Find an affordable wedding dress on Ebay or Amazon.com
Find an affordable wedding dress on Ebay or Amazon.com


Thrift Shop Wedding Dresses
Wedding dress consignment is an option if you want to get a designer wedding gown and a fraction of the price. Most major cities have consignment shops for wedding dresses and evening gowns. Just Google "wedding dress consignment" with the name of your city. Plain old thrift stores like Goodwill sometimes carry nice wedding dresses. But, you have to get lucky and be constantly on the look out. You will have more luck if you visit a thrift store that is in a very expensive part of town.
Inexpensive Wedding Dresses
The first two pictures show Jenna Bush 's Wedding dress from Oscar De La Renta. The knock off from David's Bridal is shown in the third picture. You can also go on amazon.com to find inexpensive wedding dresses.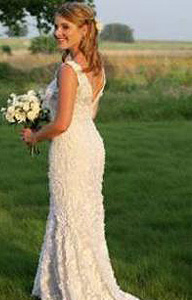 Using a White Evening Gown as A Wedding Dress
You can buy a white evening dress, which ends up being less expensive than if the designer called it a wedding dress. from left to right, the first dress was on sale for $109 at formal.com; the next dress was for $169 at promgirl.com; the beautiful evening gown with the sparkly details was just $298, and the one to the far right with the gold is $398 at www.elegantmart.com. Keep in mind that the selections and prices of these websites change all the time. We are just showing you these dresses as examples of what you may find.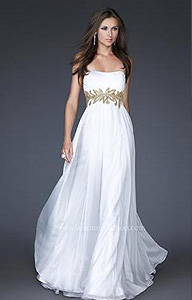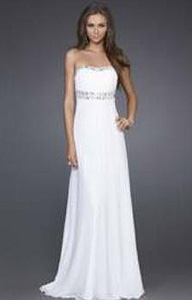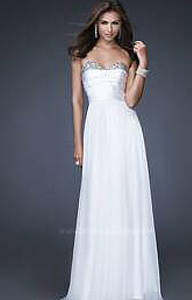 (more after advertisement below)
Pink and colored Wedding Dresses
An inexpensive Pink wedding dress is big this year. One great thing about a pink wedding dress is that you can wear it again to other events. Here are some examples from Wedding.com. Other wedding dress colors are also popular.