Free printable Wedding Invitations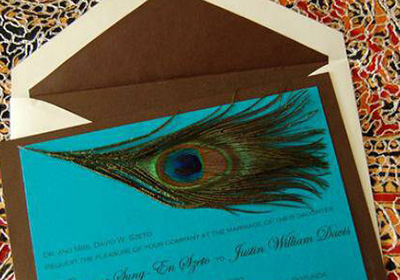 Make Your Own Wedding Invitations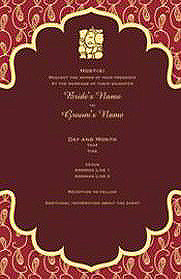 Microsoft Image has free downloadable wedding templates. To get the look of the colored frame, you glue the invitation onto colored card stock.
At Vista Print, you can get 100 custom printed postcards for free! They have all kinds of themes and you can upload photos. Custom invitations for 100 run about $80. www.vistaprint.com.
Free Wedding Invitation Templates for Word Microsoft Office Online is a great source for free wedding invitation templates. Free printable wedding invitations with templates for Word. Keep in mind that a design that uses a lot of ink will be expensive when you have to change the ink in your printer. Below, we give an example of a design that does not use a lot of ink. Here is another idea: www.ticket printing.com can print up to 250 invitations for under $30.
Wedding Invitation Trends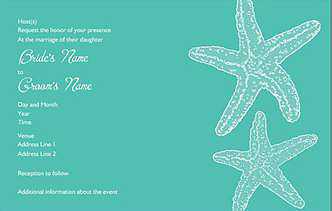 Wedding Paper Divas announced the top wedding trends:
Many couples are choosing wedding invitations in non-traditional shapes, such as square and tea length cards.
Brides are also creating unique color combinations such as turquoise and lime.
Monograms are still current.
Natural elements like leaves and flowers are represented.
Toile is popular.
Couples are including ethnic designs in wedding invitations.
Creating Your Wedding Invitations
Here are some great ways to help make your own wedding invitation.
Layer Vellum on Top of Card stock
Simple card stock that you buy from an office supply store can work perfectly for wedding invitations.
Cut an f 8 1/2" by 11" sheet of card stock in half.
Cut the translucent paper, such as vellum, the same size. Or if for a nice framing effect, cut it 1/4 of an inch smaller on all sides.
Print your invitation on the sheet of vellum.
Put the vellum sheet on top of the card stock. You can glue the vellum sheet to the card stock or use a hole punch on both sheets and tie them together with a ribbon.
Use Blank Wedding Invitations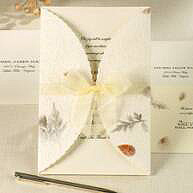 You can buy blank invitation kits at discount stores, such as Target and Wal Mart as well as office supply stores and craft stores. Keep you eye out for sales because the get marked down from time to time. They come with instructions. But it may take a few tries to make sure that the text is centered etc., so cut your cheap printer paper in the same size as the invitations so you don't waste the real thing while you are learning.
Visit a Local Printer
If you don't want to mess with printing out your own invitations, you can bring your paper to a local printer or copy shop to do it for you. You should compare what they charge with what it would cost to order competed invitations online.
Some Typical Wording of a Wedding Invitation
Carrie Dickenson and Daniel Harper
together with their parents
Mr. and Mrs. Wiliian Dickenson
and Mr. and Mrs. John Harper
invite you to share in the joy when they exchange marriage vows and begin their new life together on Saturday, the eighteenth of May at twelve o'clock on the afternoon at all Saints Catholic Church.
11 Main Street, Pittsburg, PA 91495
A reception to follow at the Beaux Arts Center on 23 Pickering St., Pittsburg, PA 91402
(more after advertisement below)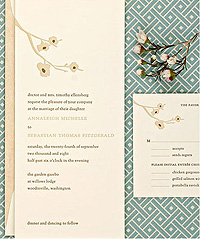 If the wedding is being hosted by the bride an groom only, simply leave out the parent's names. Here are some more tips:
The bride's name is first on the list of the wedding invitation. Spell out numbers of the times of the ceremony and reception.
Rsvp: Y0u can include a card for people to fill out and return to let you know whether they are coming. If you do this, you need to put a stamp on each RSVP envelope. But if you don't want to pay for the extra printing and mailing expenses, include a phone number or e-mail address for you guests to RSVP. Make sure that you list the date that you need to hear back from them. Keep careful records of everyone you invited because some people will not respond and you will have to call the.
Dress Code: The invitation should state how people should dress for the wedding, such as:
-White Tie -- the most formal -- A tux for him and long evening gown for her.
-Black Tie -- A tux for him and a cocktail dress or long gown for her.
-Black Tie Optional -- A tux or dark suit and tie for him and a cocktail dress for her.
-Beach Formal -- for him a summer weight suit and for her a formal sundress.
Addressing Envelope:
- If you are inviting children, address the envelope this way: Mr. and Mrs. Kurt Tucker and family.
- If you are not inviting children, address it only to Mr. and Mrs. Kurt Tucker.
- If you are inviting a single person, address it as "Charles Smith and guest." However, if Charles has been dating Mary for a while and she has met your family, address it to Charles Smith and Mary Morgan.