Inexpensive Wedding Venues in Las Vegas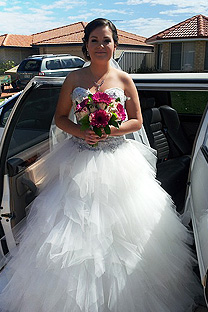 Banquet halls in Las Vegas are Lavish and affordable at the same time. For example, at the historic Sahara Hotel, you can have a reception for under $20 a person for up to 150 guests. 
Below, we give the details on this and other great deals in Las Vegas Wedding Venues.
Fees for Affordable Banquet Halls in Las Vegas
Layla's Palace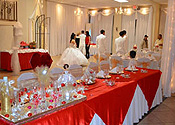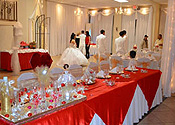 Layla's Palace -- Low Cost Wedding Reception Venue in Las Vegas 
This Las Vegas Banquet Hall facility is available for up to 7 hours for up to 220 guests. It includes linen in your choice of colors, chocolate and champagne fountains, cake designs,  menu choices, decorations, unlimited non-alcoholic beverages, and alcoholic drinks.
3430 E Tropicana Ave. Suite 34
Las Vegas, NV 89121
702-498-6773
Pampas Brazilian Restaurant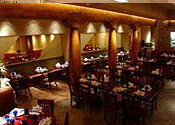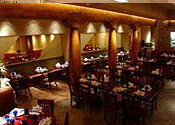 Pampas Brazilian Restaurant At Planet Hollywood 
Private luncheon menus for this affordable Las Vegas wedding are from $26.95 a person. The private dinner menu is from $49.95 a person. Fees to rent the venue range from $125 to $800 depending on the size of the group and the room.
3663 S Las Vegas Blvd #610
Las Vegas, NV 89109
702- 737-4743
The Oasis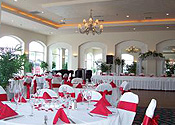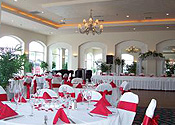 The Oasis -- inexpensive Las Vegas Wedding Banquet Hall
This Las Vegas wedding venue offers a formal banquet room overlooking waterfall & pools, Tables, chairs, linens, china & silverware, a large tile dance floor, coordinators and hosts, hors d' oeuvres, a dinner buffet or sit down dinner, and complimentary champagne for bridal tables.
2711 W. Windmill Lane
Las Vegas, NV 89123
Diana Martinez 702-338-5235
Tuscany Suites & Casino - Cantina or Marilyn's Cafe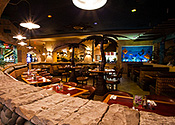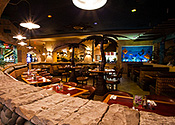 Marilyn's Cafe or Cantina Mexican Restaurant at the Tuscany Suites 
For these Las Vegas reception halls, you pay $250 to rent the party room and additional fees for the food. Prices range from $23.95 per person at Marilyn's Cafe; from $14.95 per person at the Cantina; and from $40 per person person as Tuscany Gardens.
255 East Flamingo Rd.
Las Vegas, Nevada 89169-4708
702-893-8933

Texas Station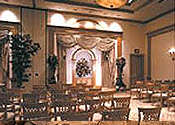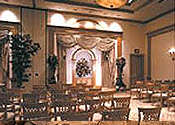 Texas Station Gambling Hall and Hotel -- Inexpensive Banquet Hall  
The dinner buffet is $25 per person.
2101 Texas Star Road
Las Vegas, NV 89032
800-654-8804
702-631-8321
Allure Gardens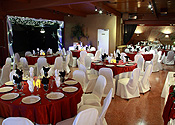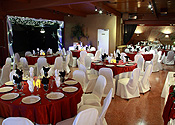 Allure Gardens -- Affordable Vegas Reception Package
This venue offers very affordable complete wedding packages. For a Friday or Saturday, the prices are as follows: up to 50 guests -- $3,150, up to 80 guests -- $3,850, up to 100 guests -- $4,750, up to 150 guests, $6,750, up to 200 guests -- $8,750. That includes four hours for the event, a buffet, centerpieces, a wedding cake, a D.J., and the ceremony. 50-100 guests.
5555 W. Charleston Blvd.
Las Vegas NV. 89146
702-686-7278
DISCLAIMER: All advice and wedding venue or vendor listings on this website are for informational and entertainment purposes only. We do not endorse any of the listed wedding vendors. We can neither guarantee the soundness of the vendors nor the advice. Be sure to check out any wedding vendor thorougly before choosing one.