Cheap Wedding Flower Bouquets and Arrangements
You don't need experience to do your own wedding flowers. To make a bridal bouquet, start with a bouquet holder and do the steps below. You can get them from any floral supply store or website. This one is from wilton.com.
Make A Wedding Bouquet in Six Easy Steps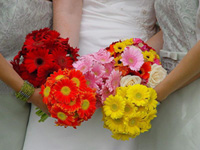 Step ONE: Put the bouquet holder upside down in a large bowl of water. Take it out and dry the plastic parts. Only the foam should stay wet.
Step TWO: Cut the flower stems at a very sharp angle and stick them into the foam holder.
Step THREE: Wrap floral wire around the stems to reinforce them. You can also attach flower parts to stems.
Step FOUR: To create a cascade effect, insert various lengths of greenery such as ivy or fern at the bottom of the bouquet holder or let the stems of the flowers to be long and wire them by the plastic part of the holder.
Step FIVE: Cover the holder with silk or tulle material.
Step SIX: Tie a a 2-inch ribbon around your wedding bouquet. You can use a combination of ribbon colors. Add a pearl spray or two as well. You can also use one or two flowing wired pearls or one warm colored butterfly.
Using Silk Wedding Flowers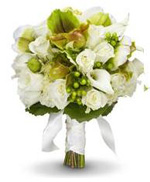 Today's silk flower look a lot more realistic than in the past. You can save even more money by arranging your own silk bouquets.  Silk flowers end up being less expensive than the real thing because you can buy them when they go on sale and store them until they are needed. You can also re-sell them. 
Another advantage to working with silk flowers is that you can make them several months ahead. It will give you time to practice floral arrangements. You can get some great flower arranging instruction from youtube or from books. Notice how floral designers use leaves and green material to break up a bouquet and create different shapes with different flowers.
Making A Simple Loose Flower Arrangement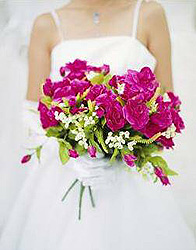 One of the easiest ways to make a bouquet is simply to tie a bunch of flowers with ribbon. This works best with flowers like calla lilies and daisies that have long stems and simple flowers. Rubber band the flowers together while your wrap ribbon diagonally down the stems, securing the ribbon with a dab of hot glue in the back.
For something more complicated, buy a bouqet holder. It's a small piece of floral foam on the end of a handle. Using a pair of wire cutters, you can snip off the flowers you like and arrange them in the holder, creating the round or draping bouquets that many brides prefer. It's a good idea to buy an extra holder to practice on. If you rearrange the flowers to often, you risk weakening the structure of the foam.
(more after advertisement below)
Where to Find Cheap or Wholesale Flowers
Order Flowers from Costco: They offer a variety of flowers -- from roses and sunflowers to gerbera daisies. They also offer floral arrangements for a higher fee or you could just flowers in the store on the day of the wedding. You can order bulk flowers online from Costco at http://www.costco.com under the bulk roses category. To find the roses on their site, you have to do a separate search for roses, for some reason!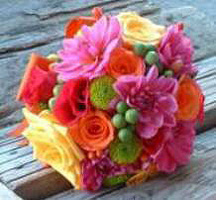 Buy Flowers from Trader Joe's or Home Depot: You can probably do one dozen per table centerpiece. Have you considered flowers from Trader Joe's? They have great prices on flowers in their stores.
Purchase Roses a Day or Two Before the Wedding: You can always remove a few outside dead or damaged petals. Order some extra roses in case any get damaged or to sprinkle rose petals for decoration. Remember to keep the roses in a cool a place as you can (air conditioning). But, don't freeze them or they will get ruined.
Buy inexpensive vases from Ikea, Big Lots, craft stores, thrift stores etc. Vases are one those ridiculously inexpensive things that Ikea sells to draw you into the store to by furniture. They even sell a reasonably large vase for about $1.50! Also, the 99 cents stores sometimes carry some nice vases. Also, look for sales at craft stores like Joanne's and Michaels. You can also try yard sales or swap meets. Who says the vases have to be identical? However, unless you go to a huge swap meet like the one in Pasadena, Calif. you would have to put in a lot of time and effort to purchase enough of them.