Wedding Day Hair Styles & Updos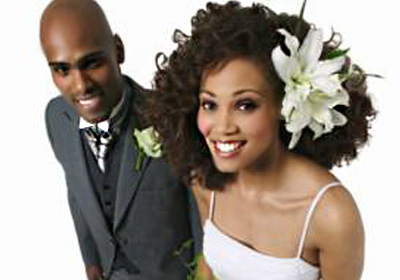 Hair styling is literally on the rise. As the economy struggles to recover, fashion-forward clients are are asking for updos. By turning to hair as an accessory, women are discovering how to freshen their party and wedding season wardrobe without breaking the bank. A gorgeous updo lends a new perspective to that little black dress. It urges the eye upward and makes hair the focal point of an outfit," said Brandon Wagner, creative director of Tribeca ColorSalon in South Tampa. For a look that exudes refined elegance, Wagner recommends a popular style, such as the classic chignon.
For a sleek look, try a Juliet cap to anchor your veil. You could wear a birdcage veil under a hat. Bridal hats range from very small to floppy and large-rimmed.
How to do an Updo?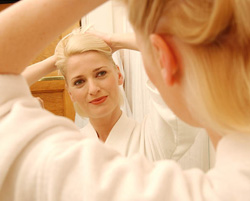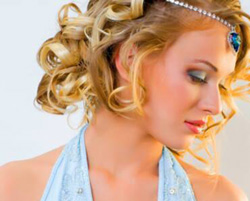 Creating your own updo is easier than you may think. Here we explain how practically anyone can create a half updo or full updo.
Get the following things ready:
Bobby pins that match your hair color
A flat hair iron
Hair gel
Curling Iron
Brush out tangles. Clip hair into one or more large clips so all of your hair is gathered up.
Pull down a section of hair that is 1 to 2 inches wide. Apply gel and Straighen it with your flat iron. For a smooth look, you can leave the hair texture flat. If you want a curly look, curl each section with a curling iron.
Creat a side part starting at the the front of your hairline back to  about 2 inches from the the top of your head. Gather up your hair in a french twish and secure it with multiple bobby pins.
Should I Try a Wedding Updo Wtih Flowers?
A bridal updo with Flowers is another classic look. It can work for everyone from the flower girl to the mother of the bride.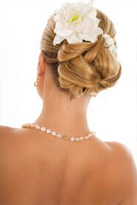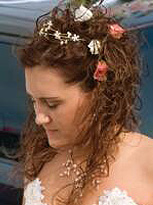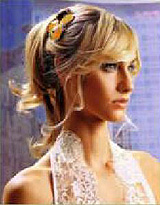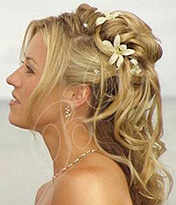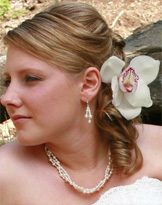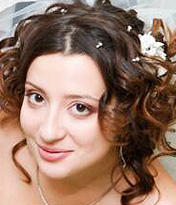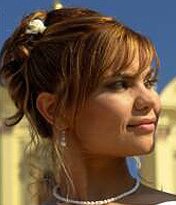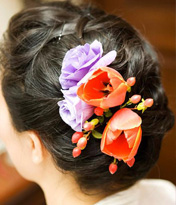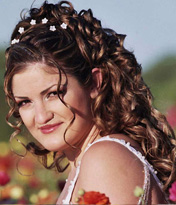 Long Hair Updo Styles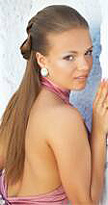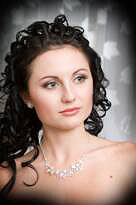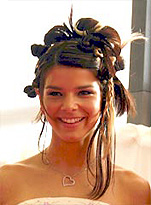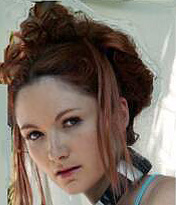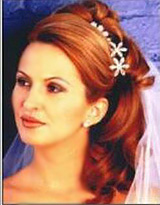 Wedding Hair Accessories
For Hair jewelry, Try twists of pearls, rhinestones, or crystals. You can easily make hair jewelry yourself with craft or jewelry supplied.












(more after advertisement below)
Mother of the Bride Wedding Updo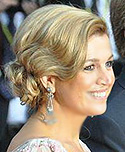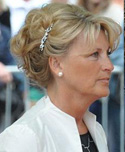 What Styles are Best for a Mother of the Bride Updo? The mother of the bride should look elegant and sophisticated on her daughter's wedding day. Her wedding updo hairstyle should not be so elaborate that it steals the spotlight from the bride. That doesn't mean that she can't look gorgeous with a beautiful style. Most of the photos on this page are sleek and elegant enough for the mother of the bride. Just avoid the ones with that include rhinestone crowns or a a lot of really big hair accessories.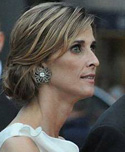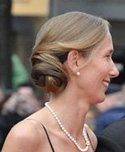 As you can see in the accompanying photos, an updo can be a great choice for everyone from the mother of the bride to the flower girl and the bride herself. It can be the perfect solution for thing hair. Teasing makes thin hair look fuller, but it can make you look like Peggy Bundy. But you can get away with a lot more with an updo because it's supposed to look poufy.
The Classic Chignon For the Wedding Day