Cheap Wedding Centerpiece Ideas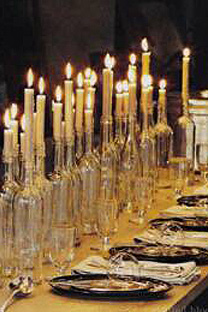 You don't have to spend a lot of money or have a lot of skill to create a beautiful wedding centerpiece.
(This centerpiece, from Elle Decor Magazine, was made by sticking candles in old wine bottle.)
On this page, we cover everything from finding wonderful centerpieces from Ikea, home depot, and even the 99 cents store! We also provide instructions for easy projects. We also provide a ton of photo examples. 
 Inexpensive centerpiece trends include silk or fresh flowers, shells, candles, branches and may other materials. Here are some creative ideas for low cost centerpieces.
Our Favorite Centerpieces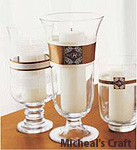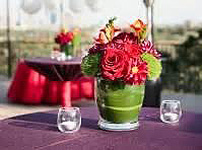 As you can see from these images, candles offer a very inexpensive and easy alternative for wedding centerpieces. You can make them ahead of time; they won't wilt; you don't need special skills to make them, and you can get them cheap from the 99 cents store. For a floating centerpiece, all it takes a is a large bowl of water some floating candles and a couple of flower stems.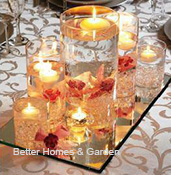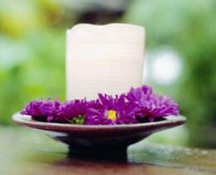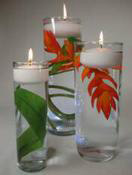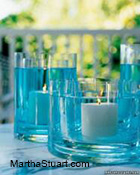 Rose Petal Centerpieces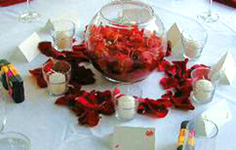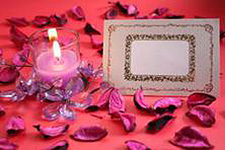 A time-honored technique to saving money on centerpiece is to use flower petals. You can buy them fresh from the florist or order silk rose petals in bulk from a website like OrientalTrading.com. they sell 200 silk petals for under $6.
Submerged Flower Centerpieces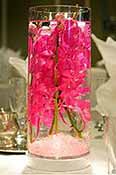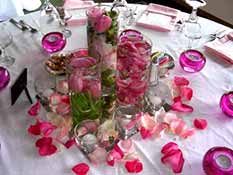 When submerging fresh flowers, don't make them more than a day in advance because the water will get cloudy.
Tropical and Asian Centerpieces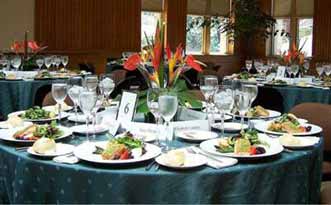 It is very easy to create an Asian Centerpiece or Tropical Centerpiece for just a little bit of money. An Asian style centerpiece lends itself to being inexpensive because it does not involve overpowerng elements that are seen in very elaborate floral displays. As you can see, you can make a lovely centerpiece with just a few river rocks and a couple of blooms. You can also create a stunning centerpiece with a single orhid. You can buy table-sized orchid plants from Costco or Home Depot for under $20.Since the contanters are usualy ugly, you can wrap them with silk fabric or place the plant into a better pot. You can even great nice pots from the 99 cent store. To really pull it together, you can place the centerpiece on top of a simple bamboo placemat. You can get these placemats at home stores or online at Oriental Trading or Save-on Crafts. You could by other tropical plants from a nursery, such as a Bird of Paradise Plant.
Orchid Centerpieces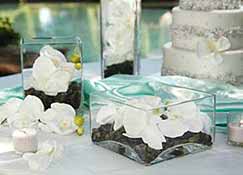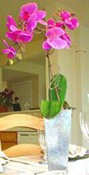 A very popular trend this year is the orchid centerpiece. As you can see in this example, one simple flower can make quite a statement.
Winter Wedding Centerpieces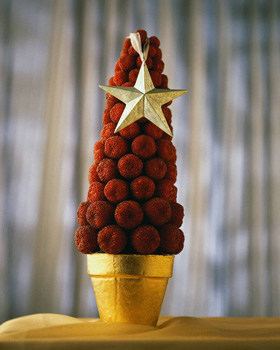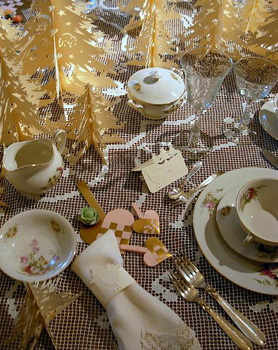 If you are having wedding in december, there are so many Christmas centerpiece ideas that you can use. You can get something as simple as Christmas wrapping paper and gingerbread cookies to decorate your table. For a Christmas Wedding Decorations centerpiece, aarrange plain Christmas tree balls in a bowl on each table. This would work especially well for a December wedding.
Lighted Centerpieces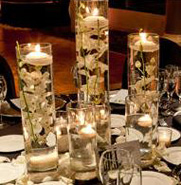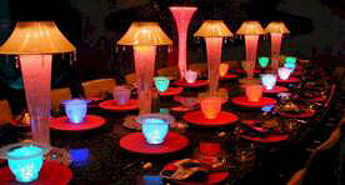 Floating Light Centerpiece: Fill glass bowls with water and tea lights. Add a couple drops of food coloring. This kind of under-water lighting makes your centerpieces glow.Floating Candles Centerpiece: For a fire and water theme, put a thick candle inside a clear vase filled with about 3 inches of water. Float small blooms in the water. Lighted centerpieces really make a statement and they're surprisingly affordable.. You can use wedding Centerpiece lights in so many ways for so little money. Clear glass gems cost $1.48 per pound from www.mcgillswarehouse.com or $1.48 per pounds or $1.05 per pound if you buy 30 pounds. Mini Liquid Activated Gel Cubes (Multicolor) 25 pcs: $ 1.69 for 25 pieces from www.flashingblinkylights.com.
(more after advertisement below)
Nature Inspired Wedding Decorations
Instead of going to the store, you can create wedding decorations from nature by going to the park to gather branches and pinecones. you can either leave them natural as in our examples, or paint them silver or another color to match your theme. This example is from www.save-on-crafts.com. This involves sticking the branches inside a pot filled with foam and then pouring plaster on top to harden it in place. Organic wedding centerpiece put natural potted plants on the table for an organic centerpiece look or include a basket of fruit.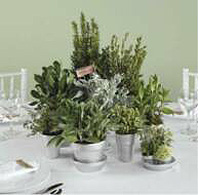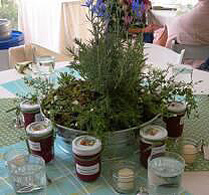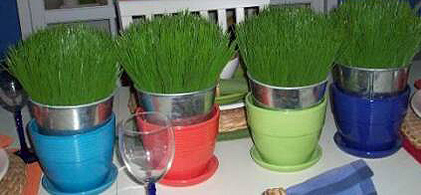 Wine Bottle or wine glass Centerpiece Ideas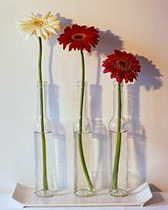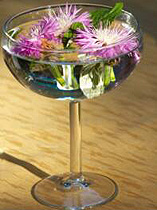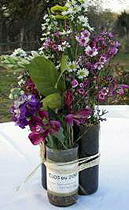 Having a wine bottle centerpiece works especially well if you are not planning on having an open bar. You can buy an inexpensive wine bottle centerpieces from www.amazon.com or make your own. Another idea is to use wine glasses as a decoration. You can group wine glasses on tables and fill with candy, beads, flowers, or candles. You can also fill wine glasses with flowers and floating candles. You can buy wine glasses cheap at thrift stores.
Ikea Wedding Centerpiece Ideas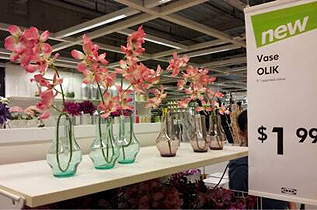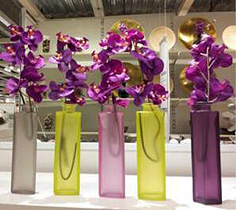 You probably never thought of Ikea as a source for wedding decorations, but you can get some very inexpensive centerpieces there.
99 Cents Store Wedding Centerpiece
We mentioned the 99 cent store, buy we can't say it enough. They offer great supplies for wedding decorations. The best store for crafts and decorating supplies is Dollar Tree. All of these centerpieces were made from items from Dollartree or the 99 Cents store!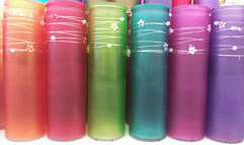 Beach Theme Centerpieces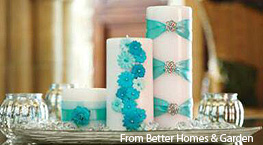 When it comes to beach centerpieces, the options are endless. In an example on the left, you simply fill vases with sea shells. You can even use a large seashell as a flower vase and spread small shells around the tables. Oriental trading sells seashells in bulk.
Tall Wedding Centerpiece Ideas
A very popular trend is to have centerpieces using tall vases. A centerpiece can look much bigger using a taller vase. Long-stemmed flowers are excellent for tall centerpieces. Try delphiniums, Calla lilies, Gerber daisies and Cymbidium orchids. You can get tall vases from a florist's supply shop for a little as $6 each or rent or purchase floral stands.
You can also hang crystals from branches and even try a chandelier for centerpiece.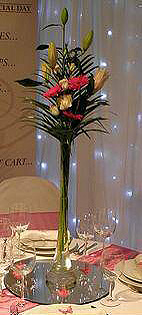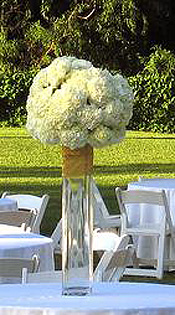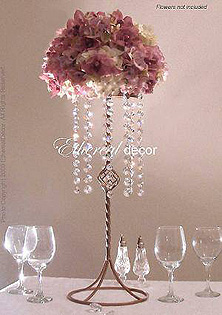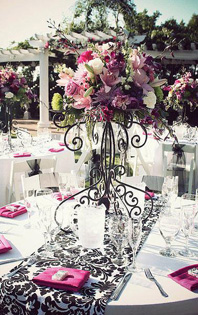 Centerpieces with Branches
Using branches in centerpieces can offer an elegant or rustic look to any table.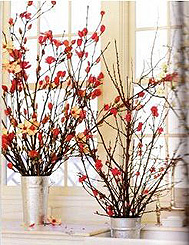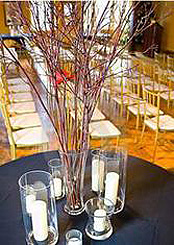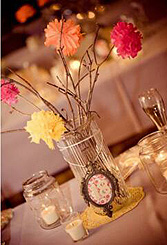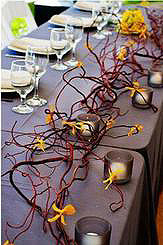 Fruit & Flower Centerpieces
A popular centerpiece trend is a vase with lemons and limes. You don't need as many flowers, which reduces the costs. Try a carved fruit wedding centerpiece. For vases, look for cheap objects around the house or from thrift stores like cans, water picthers, and teapots. Ask firends and family or things they no longer use.