Free Printable Save the Date Wedding Invitations
There are many great resources for free save-the-date printable wedding invitations. We scoured the web to find some beautiful designs. Of course, you have to remember that you still have the expense of printing the cards.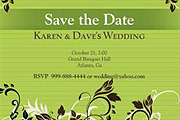 One fun and inexpensive option is to print save the date magnets. The free save the date printable example on this page that takes the most work is naturally from Martha Stewart! You have to cut each one out and print it own both sides, but it's really cute! Another really affordable option is to order postcards from Vista Print at less than $25 for 100 cards. For some reason, save the date cards are much more expensive.
If you don't like the design of this free printable card template, there are so many others. You can even upload your own photos or design. With the free printable examples below, you can print them from your own computer or take them to a printer (much less of a hassle.) 
This beach-theme example is from discountmagnets.com.The price is as low as 12 cents per magnet if you order more 200 or more. Paying only $24 for unique save the date cards is a great deal. 
(more after advertisement below)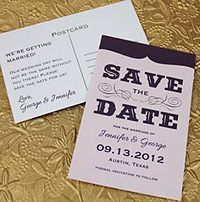 Here is a vintage free pintables save the date from Blush Printables. Warning! if you go to this site, you will waste a lot of time looking at all of the beautiful designs they have.
The Aptly named, downloadandprint.com website offers some cut vintage invitation printable like this one below.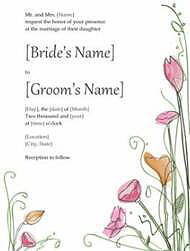 The Avery paper company also offers free printable templates for invitations. I guess that it encourages you to order paper from them. This example to the right  is simple and elegant. It may be a good option if you plan to print your save the date cards from your own computer because it would not take up as much ink as the other examples.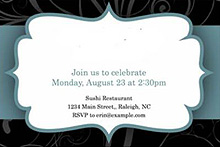 If Avery wants to encourage you to buy their paper, then HP must want to encourage you to buy their ink with these free customizable save the date cards  For beautifullycoordinated printable invitations and programs, www.jbrarytn.com is a great source as you can see in this example.