Inexpensive Wedding Decorations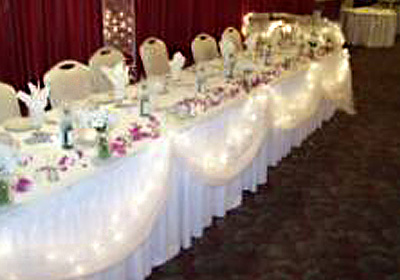 Wedding pom pom poms like the these featured in Martha Stewart Crafts, are very inexpensive decorations. Here are your choices from most to least inexpensive:
Buy them already made by a craft person featured on Etsy.com for about $120 for 40 large pom poms.
Buy at Kit from Martha Steward Crafts to make them yourself, but get a headstart. Its about $19 a kit to make 7 poms. That adds up to almost as much as you would pay for somone to make them for you.
Make your own from scratch, which is much easier than you'd expect. You can buy a pack of 20 sheets of tissue paper from the 99 cents store, which is what you need for one pom pom. You can buy 400 sheets from papermart.com for less than $14. Here are the instructions:
Making Your Own Wedding Pom Poms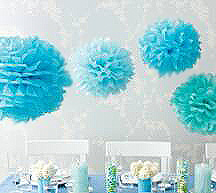 1. Grab the stack of tissue paper and make sure the sheets of paper are all lined up in a neat pile.
2. Fold the pile back and forth accordian style.
3. Twist and a sandwhich twistie or piece of craft wire around the middle.
4. Tie a piece of fishing wire around the middle so you can hang the pom pom. 5. Take a pair of scissors and round off the edges.of each side.
5. Take one side and pull individual sheets as far and you can toward the middle.
6. Take the other side and pull the individual sheets in the opposite direction as far as you can toward the middle.
What's great about these decoratons is that they can be reused. You can sell them or donate them to a high school for homecomming decorations, give them away to girls for a chearlading halloween costume etc.
Homemade Wedding Wand Decorations Can Double as a centerpiece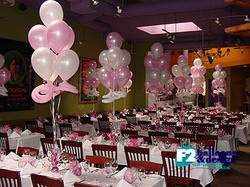 You can create a wedding wand to wave at the bride and groom instead of throwing rice or during the reception. You can scout wooden dowels at the hardware store or craft store. They will cut them to size for you. You can use spary paint to match the dowels to your wedding colors. Silver or gold would be very pretty. You simply use a hot glue gun to attach ribbon, feathers, lace, or whatever else you can think of to the top of the dowel. The wants can be put in vases on the tables so they also serve as a centerpiece.
Inexpensive Tulle Wedding Decoratons
Buying tulle from the fabric store is a great way to create DIY wedding decorations. (Tulle is a fine, often starched net of silk, rayon, or nylon, used especially for veils, tutus, or gowns.) The most popular tulle wedding color is white, but brides are using many different colors to match their themes.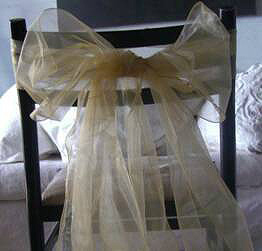 White tulle decorations go especially well with white flowers for the church ceremony. You can also make pew bows with tulle. Just tie tulle into a bow and make sure that the ends are long enough to reach the floor. To make it extra fancy, you can get a bow maker from a craft store or add some gold or other colored decorations. Adding fresh flowers to the bow is an elegant wedding decoration touch.
You can also use tulle to decorate the wedding gazebo to accent flowers or to use in place of flowers. Another wedding decorating idea is to twist together tulle with string lights in a doorway, gazebo, or wherever. Keep an eye out for after-Chrismass sales. Tulle can also enhance the look of a winter wedding theme.
(more after advertisement below)
Wedding Reception Decor
You can find balloons to in wedding colors, such as pearl, silver, gold, an just about any other color. Just because you have balloons, doesn't mean you can't have fresh flowers for wedding reception decorations also. At the reception, you can have a large balloon arch and then groups of five or six balloons for the table decorations.
Another idea is to decorate the wedding reception tables with framed pictures of the bride and groom as well as friends and family members.
Did you know that there are companies that rent out plants? If you are placing plants on the tables, it's best to buy them instead of renting them because people will take them home. But how about renting some small trees for the entrance to the reception hall, around the buffet table, or near the wedding cake? For example, at one company, you can rent palm trees for anywhere from $35 to $350 – depending on the size of course. http://www.treeandpalmrentals.com/prices. Another idea is to buy inexpensive silk trees from Michaels.