Inexpensive Wedding Receptions in Atlanta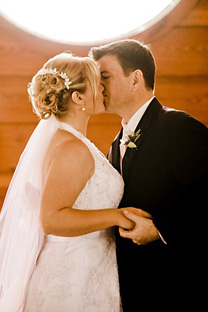 If your are looking for an inexpensive, but elegant wedding venue in the Atlanta-area, you have more choices than you may think. For example, you can rent the Mary Gay House for only $900 on Sunday and $1,200 on Saturday. How about a three-course wedding luncheon at the Buckhouse Restaurant. for $38 a person? Fulton County also has a wealth of historical and affordable venues. We list these and other venues below.
Deals in Atlanta Wedding Venues
Rutledge Manor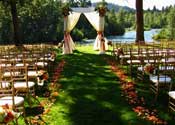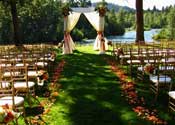 Rutledge Manor 
This affordable is event planning company that offers a variety of packages starting at $3,500 for 50 guests including catering. Built in 1893, Rutledge Manor is in downtown Rutledge, GA. Clients can use the antique banquet hall or sites at the State Park less than two miles away. They provide venue space, food catering, refreshments, decorations, and vendor liaisons.
124 Fairplay Street
Rutledge, GA 30663
912-312-6200
The Trolley Barn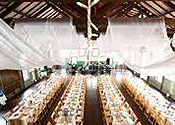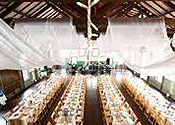 The Trolley Barn -- Fees for this inexpensive rental hall in Atlanta are:
Friday and Sunday: $3,500
Saturday from January to March: $3,700
Saturday from April to December: $4000.
This venue features a brick patio is surrounded by lush gardens and graceful granite steps. The inside has 30 foot ceiling with the original 1889 beams.

963 Edgewood Avenue
NE Atlanta, GA 30307
404-521-2308
atlbarn@bellsouth.net
The Mary Gay House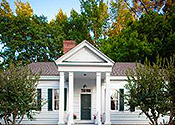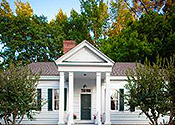 Mary Gay House - - Rental fees are reasonable for this banquet hall in Decatur Georgia. 
This venue can accommodate 200. The Simpson Room can accommodate 80 - 100 seated guests for a sit down dinner. Evening events must end by 11:00 p.m.
716 West Trinity Place
P.O. Box 183
Decatur, GA 30031
404-378-2162
Forest Hills Mountain Resort Conference Center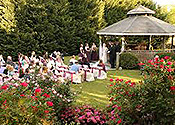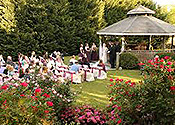 Forest Hills Mountain Resort & Conference Center 
Wedding Specials For 25 to 200 Guests.
The Storybook package is $7,995 including tax and gratuities for 100 or $35 per person with a 100 minimum. It includes a ceremony in a chapel with chair covers & traditional wedding music and use of of the outdoor wedding garden for pictures. The four-hour reception include a buffet dinner and wedding cake. It includes cloth and skirted tables, and use of house centerpieces.
135 Forest Hills Road
Dahlonega GA 30533
706-864-6456
Magnolia Hall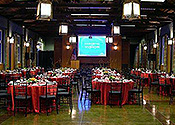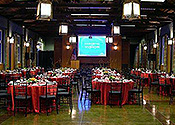 Magnolia Hall --  Atlanta Wedding Venue
Rental fees range from $1,700 to $3,500 depending on the date of the event. This Elegant Mission Style venue was built in 1945. There is a beautiful lakeside view. There is 6,000 square feet of outdoor entertaining space. The capacity is 125 to 200 people depending on seating arrangements.
400 Park Drive Northeast
Atlanta, GA 30357
404-875-7275 ext. 224 or 230
Petite Auberge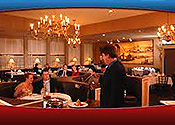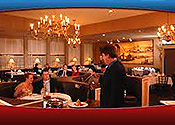 Petite Auberge Atlanta
There is no extra charge to rent theses Atlanta banquet rooms. You only pay catering fees. There there are private dining rooms for small groups of up to 80, medium groups of up to 135, and large groups of up to 225. Banquet dinners with soup, entree, desert, and coffee and tea range from $23.40 a person to $34.35 a person.
Toco Hill Shopping Plaza
2935 North Druid Hills Road
Atlanta, GA 30329
404-634-6268
petiteauberge.com
Buckhead Restaurant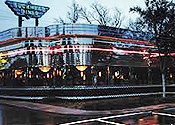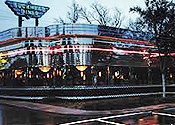 Buckhead Restaurant -- Affordable Wedding Venue in Atlanta 
A three-course lunch is $38 per person and the dinner is $59 per person. Food and beverage minimums only apply to evening events at this affordable Atlanta wedding venue. The minimums do not include service charges or sales taxes. Ceremony fees are $500 to $1,500 depending on the space requirements and additional labor expenses. 103 W. Paces Ferry Road NW
Atlanta, GA 30305
404-233-5993
Marietta Garden Center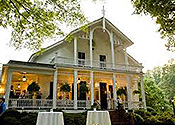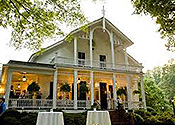 Marietta Garden Centet -- Inexpensive Wedding Reception Site in Marietta, GA
This venue can accommodate 150 for a standing event or 70 to 100 for a seated event. The capacity is 250 for an indoor/outdoor event.
505 Kennesaw Avenue, NW
Marietta, GA 30060
770-427-3494
garden@bellsouth.net
Stone Mountain Park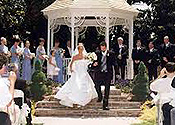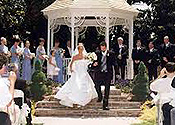 Stone Mountain Park Best Inexpensive Wedding Venues Atlanta  
The elegant formal garden and cottage is next to the historic Antebellum Plantation. The Henry W. Grady Paddlewheel Riverboat and The Waterfront Marina overlook Stone Mountain Lake.
PO Box 778
Stone Mountain Park, GA 30086
800-401-2405

Creel Park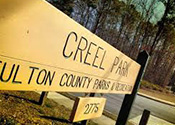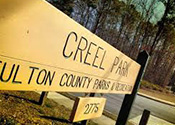 Creel Park  
2775 Creel Road
College Park, Georgia
770-996-4189

Welcome All Park & Multipurpose Facility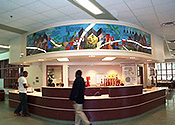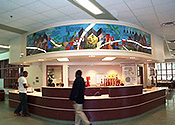 Welcome All Park & Multipurpose Facility   
This facility offers a large multi-purpose room which can be divided. Adjacent to the multipurpose room is a kitchen.
4255 Will Lee Road
College Park, Georgia 30349
404-612-4058

Fulton County Government Center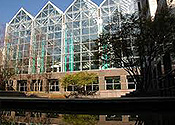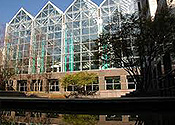 Fulton County Government Center -- Event Venue   
Fees range from $3,500 to $4,500 with a capacity of 1,000 standing and 350+ seated. This street-level courtyard has a a clear glass ceiling. It is in the Fulton County Government Center. This lovely facility features artwork, terraces, water falls, and lush greenery. It provides the comfort of an indoor event with an outdoor atmosphere. Outside catering is allowed.
141 Pryor Street, SW
Atlanta, GA 30303
(404) 730-1115

The Fulton County Atrium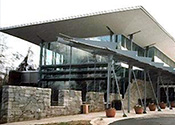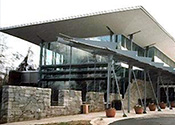 The Fulton County Atrium  
This multi-purpose senior center is an attractive and modern senior facility that can be rented out very inexpensively for parties.
141 Pryor St.
Atlanta, GA 303030
404-613-0358

DISCLAIMER: All advice and wedding venue or vendor listings on this website are for informational and entertainment purposes only. We do not endorse any of the listed wedding vendors. We can neither guarantee the soundness of the vendors nor the advice. Be sure to check out any wedding vendor thorougly before choosing one.