Inexpensive Wedding Venues in Portland, Oregon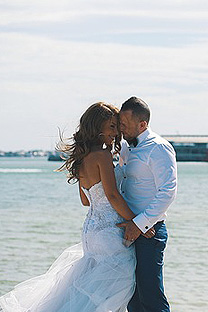 Portland Wedding Reception Venues include both outdoor sites and indoor sites.
From banquet halls to country clubs, hotel ballrooms to restaurant reception rooms, you have tons of cheap wedding reception venues from which to to choose. Below we list prices of some of the most affordable venues.
Prices of Portland Wedding Venues
The Old Church Society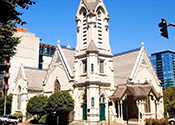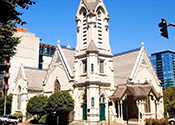 The Old Church Society -- Inexpensive Portland Banquet Hall 
Friday evenings and Sundays Ceremony & reception $1,000 Saturdays Evening ceremony & reception (3:30PM – 9PM) $1,500 Additional time for ceremonies and receptions, when available, may be rented for $125 per hour.
1422 S.W. 11th Avenue
Portland, Oregon 97201
503-222-2031
staff@oldchurch.org


Camp Colton Retreat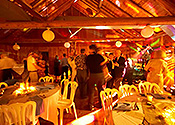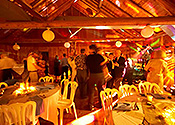 Camp Colton Retreat -- Inexpensive wedding venue in Ore.
The chapel is $450 to rent for 3 hours. champagne Wedding $800 up to 50 guests Four Hours Only $1,000 for 51-100 guests For a self-served wedding, with no staff support, you can use the chapel and the lodge for the wedding and reception for four hours, between 9:00 am and 11:00 PM, any time of year.
30000 S. Camp Colton Dr.
Colton, OR 97017
503-824-2267

Leach Botanical Garden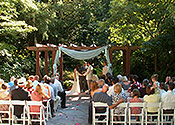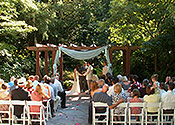 Leach Botanical Garden -- Affordable outdoor wedding venue in Portland
June - September Saturday $1,500 Friday & Sunday $1,200 Each additional hour $75 April, May & October Friday - Sunday $1,000 Public park and garden facilities rent from $146 to $1,364.
1120 SW 5th Ave.
Suite 1302 Portland, OR 97204
503-823-2525
rentals@leachgarden.org
Clark's Restaurant & Bar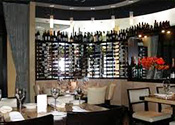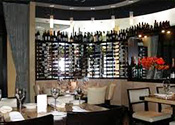 Clarks' Restaurant & Bar -- Inexpensive Reception Site in Portland 
Entire Restaurant (Includes Bar) 75 $300.
455 2nd Street Lake
Oswego, OR 97034
503-636-2667

Say Ciao! Creative Catering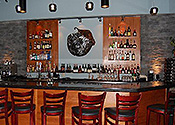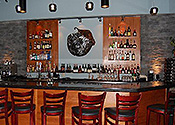 Say Ciao! Creative Catering -- Inexpensive Wedding Location near Portland.  
Luncheon menus from $12 and dinner menus from $16. However various fees apply including everything from tables to pieces of silverware. For 100 people, all the fees could add up to over $1,000.
2005 SE 192nd Ave. Suite 100
Vancouver WA 98607
360-210-5522
Oba Restaurant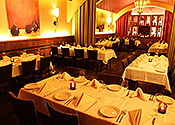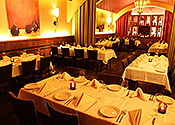 Oba Restaurant -- inexpensive reception site in Portland
Entrees, small $7 medium $13 large $24 For the entire room (seating up to 80), The food and beverage minimum is $1500. For luncheons of any size, the food and beverage minimum is $500.
555 NW 12th Ave.
Portland, OR 97209
503-228-6161
RoseSprings Center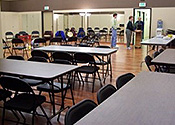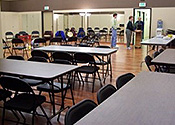 RoseSprings -- Affordable wedding reception venue in Portland
Reception and Party space for up to 50 guests - $395; up to 100 guests - $615
3-5 hours facility rental and attendant
Tables & Chairs, Setup and tear down time, Janitorial services
5215 NE Elam Young Parkway, Suite A
Hillsboro, OR 97124-6498
503-693-9101
Pantheon Banquet Hall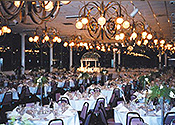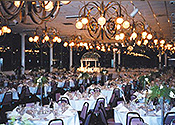 Pantheon Banquet Hall
$1,600 for to up to 150 people. $1,800 for up to 350 people.
5942 S.E. 92nd Ave.
Portland, Oregon 97266
503-775-7431
Nel Centro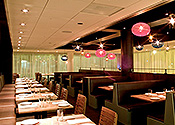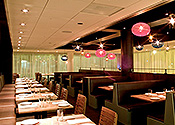 Nel Centro -- inexpensive catering menu in Portland
Featuring the cuisine of the Riviera. The restaurant has a private dining room that can seat up to 30 or the adjacent Hotel Modera can seat up to 90. $46 for a buffet dinner and $30- for lunch buffet.
1408 SW Sixth Ave
Portland, OR 97201
503-484-1099
Abernethy Center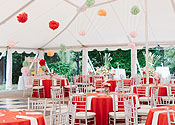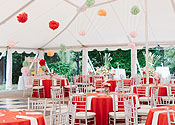 Abernethy Center -- affordable wedding venue in Oregon City
Site rental rates range from $1,000 to $6,500 based on which venue you select, the time of year, and day of the week. It includes two stunning gardens, an elegant ballroom, and a chapel each fitting up to 300 people. Every package includes tables, chairs, linens, glass and dinnerware, dance floor, and 6-7 hours of event time! On site catering ranges from $29 to $79 per person.
606 15th Street
Oregon City, OR 97045
503-722-9400
DISCLAIMER: All advice and wedding venue or vendor listings on this website are for informational and entertainment purposes only. We do not endorse any of the listed wedding vendors. We can neither guarantee the soundness of the vendors nor the advice. Be sure to check out any wedding vendor thorougly before choosing one.