Inexpensive Davenport Iowa Banquet Halls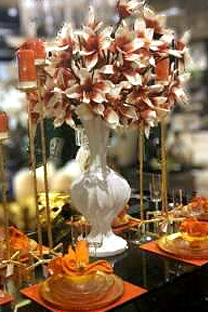 Davenport offers some great wedding reception options if you are on a budget. For example on affordable wedding venue comes from the city of Davenport, which rents out the Duck Creek Lodge for under $250.Johnny's Italian Steakhouse offers banquet menus starting under $25 a person. On this page we give details with prices on these and other great low cost options.
Prices for Iowa Banquet Halls
Biaggis Restaurant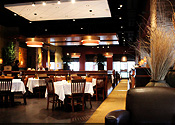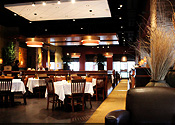 Biaggis Restaurant -- Cedar Rapids wedding reception hall 
The Special Event Room can accommodate 50 to 100 guests. Lunch menus are from $12 a person and dinner menus are from $18 a person.
Cedar Rapids, IA
319-393-6593

Ox Yoke Inn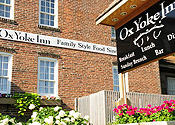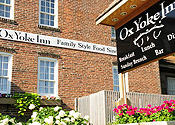 Ox Yoke Inn  -- Inexpensive wedding location in Iowa
This Iowa banquet hall offers dinners from $18.50 per person including pie.
4420 220th Trail
Amana, Iowa 52203
319-622-3441
The Mississippi Valley Fairgrounds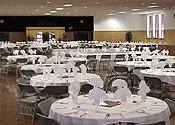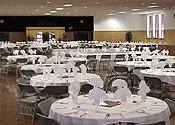 The Mississippi Valley Fairgrounds  -- Affordable Banquet hall in Davenport IA 
The Fairgrounds offer several large banquet halls in Davenport.
The Starlite Ballroom costs $800 and can accommodate 700.
The Expo Building costs $700 and can accommodate 700.
The Keppy 4-H Hall cost $600 and can accommodate 300.
2815 West Locust street
Davenport, Iowa 52804
563-326-5338
Bob Fox - bob@mvfair.com
Vicky Speth - vicky@mvfair.com
City of Davenport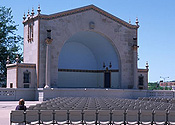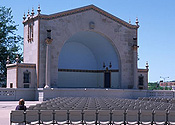 City of Davenport Rental Facilities -- Affordable wedding 
The City of Davenport has several affordable wedding venues to rent:
The Duck Creek Lodge hosts up to 200 and costs $300 for 8 hours.
LeClaire Park Bandshell is an outdoor space that goes for $350 (daily) and up, depending on size and special needs, plus deposit.
The Nightwander Theatre has 440 seats, a fully operational stage, sound and lighting. The fee is $85 per hour, plus deposit. The fee doesn't include sound, lighting for stage or other special requirements.
The Roosevelt Community Center can be rented for only $50 for 4 hours and $10 each additional hour. If you just want the meeting room, it's $20 for 4 hours and $10 each additional hour.

Rustic Ridge Golf Course
Rustic Ridge Golf Course -- Cheap Iowa wedding reception hall 
At this Eldridge, Iowa reception hall, the general fee for a party where food will be served is $200 for up to four hours.The rental includes tables and chairs, and a beverage server (if needed). They will discount the facility rental if you use their catering. A keg costs $170 and a half a keg costs $90.
1151 East Iowa Street
Eldridge, Iowa 52748
309-314-1856
Kevin@golfrusticridge.com
The Col Ballroom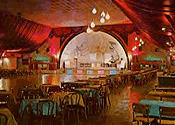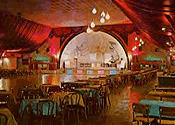 The Col Ballroom -- inexpensive wedding site in Davenport, IA  
Outside catering is allowed.
1012 West 4th Street
Davenport, IA 52802
Erin Martinez 563-322-4431
info@legendarycolballroom.com
DISCLAIMER: All advice and wedding venue or vendor listings on this website are for informational and entertainment purposes only. We do not endorse any of the listed wedding vendors. We can neither guarantee the soundness of the vendors nor the advice. Be sure to check out any wedding vendor thorougly before choosing one.